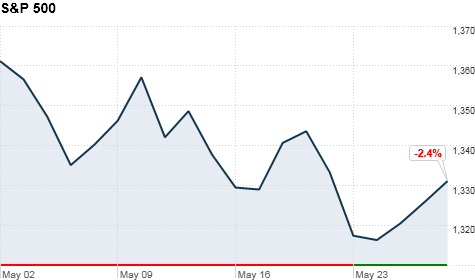 Stocks have trended lower all month due in part to economic indicators that show the U.S. economy is possibly slowing down. Click the chart for more market data.
NEW YORK (CNNMoney) — The economy and jobs will be front and center this week — whether investors like it or not.
The agenda is heavy on economic reports and culminates with the release on Friday of the government's monthly jobs report.
CNNMoney's survey of economists forecasts that the U.S. economy created 178,000 jobs in May, down from 244,000 jobs a month earlier. The unemployment rate is expected to tick down to 8.9% from 9%.
While always closely watched, this report will be especially critical.
Stocks are on pace to have their worst month in a year after several pieces of economic data came up short of expectations.
Weekly claims on jobless benefits, a real-time indicator of the labor market, have remained stubbornly above 400,000 for seven weeks. Meanwhile other measures of the health of the economy, such as pending home sales and gross domestic product, have also been disappointing.
"It looks like the foot is coming off the economic accelerator," said Fred Dickson, chief investment strategist with D.A. Davidson & Co.
Several market observers said they expect that stocks will continue to decline heading into the summer, particularly as investors prepare for the end of the Federal Reserve's quantitative easing program in June.
Other closely-watched data out this week will be the Institute for Supply Management's manufacturing and service sector reports and the Commerce Department's factory orders report.
U.S. stock and bond markets are closed on Monday in observance of Memorial Day.
On the Docket
Tuesday: The Chicago Purchasing Managers index will be released at 9:45 a.m. ET, followed by the Conference Board's consumer sentiment data at 10 a.m.
Economists surveyed by Briefing.com expect that the Chicago PMI index fell to a reading of 62.5 from April's 67.6, while consumer confidence rose to 66.3 from 65.4.
Also out on Tuesday is the S&P Case-Shiller home prices report, which is expected to show that home prices fell 3.4% in March.
Wednesday: The first of this week's jobs-related economic reports will be released on Wednesday: ADP private-sector employment at 8:15 a.m. and Challenger job cuts at 7:30 a.m.
Both sets of data are typically used to forecast the government's monthly jobs data, which is out on Friday. For the ADP report, economists expect that private employers created 170,000 jobs in May.
At 10 a.m., the Institute for Supply Management will release its May manufacturing index and the Commerce Department will issue its April construction spending report.
The ISM Index is expected to slip to 57.6 from April's reading of 60.4, while construction spending is expected to decrease 0.5%.
The major auto manufacturers also release their May sales figures on Wednesday, starting at around 11 a.m.
Thursday: The Labor Department will release the initial jobless claims report at 8:30 a.m., as well as first quarter productivity figures.
Weekly jobless claims are expected to fall to 413,000, while first-quarter productivity figures will remain unchanged at 1.6% growth.
Also out on Thursday is the Commerce Department's April factory orders report, which is expected to fall 0.9%.
Friday: All eyes on Friday will be on the May jobs report, out at 8:30 a.m.
The Institute for Supply Management will put out its May services index at 10 a.m. Economists are looking for the ISM services index to edge up to 53.3 from April's 52.8.